What is a wet separator?
In industrial extraction technology, a wet separator is a filter system that uses water as a filter medium to remove dust and chips from the hall air. The units are particularly suitable for processes with flying sparks and for filtering combustible/explosive dusts (ATEX). There are various techniques for capturing these emissions, each with its own advantages and disadvantages. ABSAUGWERK's separation technology is patented and particularly energy-saving, despite higher suction power than conventional wet scrubbers, gas scrubbers or vortex scrubbers.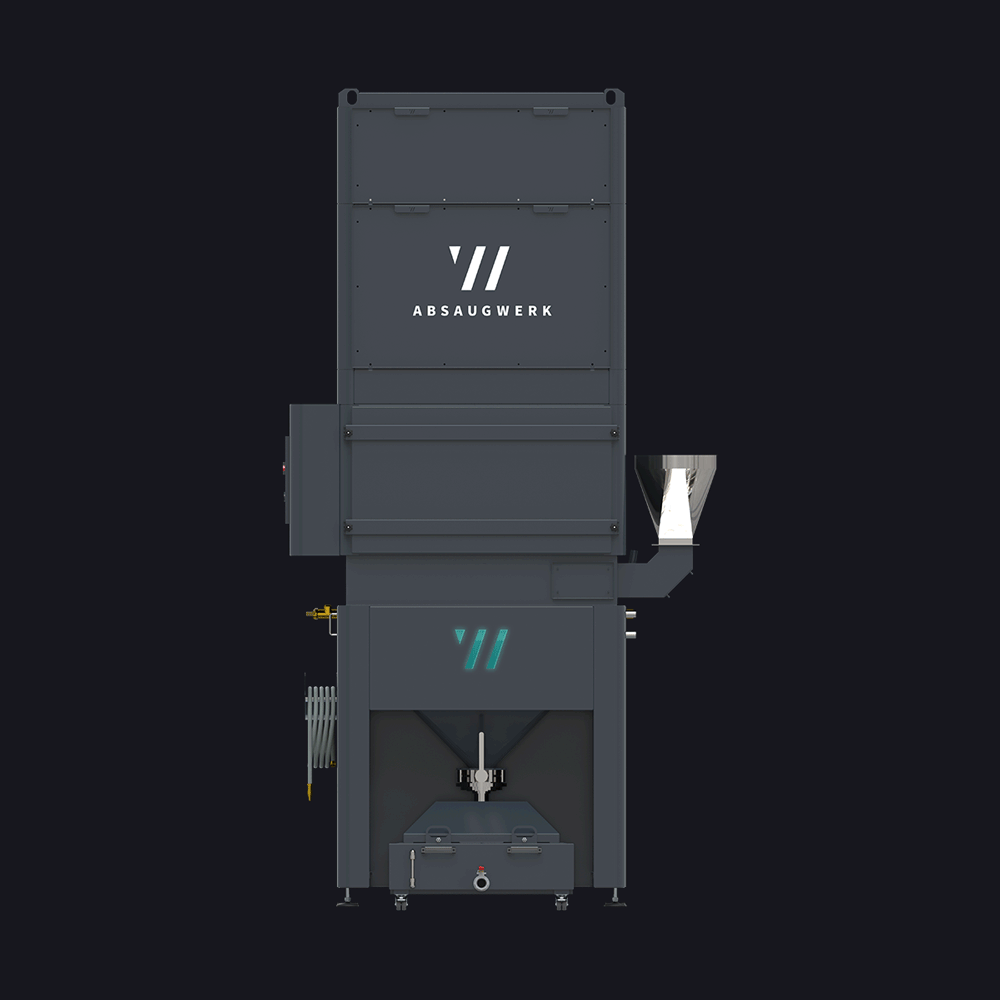 Wet separator for flammable
and explosive dusts
Energy-saving operation, sustainable design

Durable filter components

Individual configuration through numerous options

Recirculation mode for carcinogenic substances
Metalworking
Chemical industry
Pharmacy
Food & beverage industry
Automotive industry
Grinding, polishing, cutting, sawing etc.
Dusts & Chips
Sticky, moist, flammable, explosive
Wet separators are extraction systems that bind dusts and chips in an energy-saving manner in a stream of water and effectively clean the extracted air via several filter stages. Goarser particles already settle in the water and are collected directly in a discharge container. Any fine dust still present is separated via several filter stages. For carcinogenic substances such as stainless steel dusts, the use of additional HEPA H14 filters is recommended.
The cleaned air can then be fed back into the production room or outside. Special ATEX components are required for explosive media to ensure safe operation in hazardous areas.
As a manufacturer for wet separators, we also develop special solutions for special applications and configure our extraction systems specifically to the process of our customers.
LOWER ENERGY COSTS
IN THE YEAR
LESS WATER CONSUMPTION
IN THE YEAR
Service videos wet separator
From the safe installation of an extraction system, commissioning to filter change and cleaning. We regularly publish new service and product videos on our YouTube channel to make the use of our extraction systems even more customer-friendly.
Functionality wet separator
The operating principle of our wet separators is based on a patented flow technology that enables a 50% higher extraction capacity with low energy and water consumption.
The revolutionary multi-chamber system separates dusts with low resistance in water, providing highly efficient protection against fire or deflagration. The residual moisture in the air is separated via several filter stages and a stainless steel droplet separator.
The interior of the wet separator is conveniently accessible for cleaning work via several inspection openings. This saves valuable time during cleaning and maintenance. The innovative technology is also reflected in the design and is unique in the industry.
The cleaned air can then be fed back into the hall (recirculation mode) or outdoors in exhaust mode.
Unit components wet separator
Cleanable stainless-steel metal mesh
Multiple filter stages for max. separation efficiency
Robust quality filters
Long filter service lifetime
Extraction arm
Extraction table
Extraction hood
Machine connection
Individual capturing system
Motor power: 1.1–15 kW
Fan capacity: 2.350–18.000 m³/h
Operating time: 24 hours per day
Container (different sizes)
Pinch valve
Ball valve
Sludge container (different sizes)
Gate valve manual/el./pneumatic
Continuous discharge systems
Individual discharge system
HEPA H14 FILTER
Against carcinogenic substances
INTELLIGENT CONTROL
Versatile operating options
Wet separator cleaning & care
Depending on the degree of contamination, we recommend weekly cleaning of the wet separators. Regular cleaning of the pipe transition, droplet separator and discharge container prevents the formation of deposits and ensures optimum operation with consistent extraction performance. A clean extraction system also minimizes the risk of explosion and the separation efficiency of the filters is not affected. Cleaning our wet separators requires only gloves and a clean cloth.
Cleaning droplet separator
The droplet separator consists of a specially developed stainless steel mesh. The material is rustproof and can be washed out with a conventional high-pressure cleaner. To keep your employees clean and dry, we have also developed a special cleaning station, the Cleanbox. The droplet separators are simply clamped in place and the dirty water collects in a trough.
In the correct mixing ratio with oxygen and an effective ignition source, flammable and explosive particles in the form of gas, vapor, mist or dust can form an explosive atmosphere. If a fire or explosion develops, people can be injured, buildings and unit components destroyed and other flammable substances ignited.
For extraction systems such as dedusters, wet separators or welding fume filters, the so-called ATEX directives (ATmosphères EXplosibles) therefore apply to explosive atmospheres in which flammable substances, such as e.g. aluminum can be processed industrially.

As a manufacturer for ATEX wet separators, safe operation and protection of your employees is a top priority. Therefore, the ATEX wet separators from ABSAUGWERK are designed according to the primary explosion protection principle and have special ATEX components installed.
Air speed in the pipe min. > > 20 m/s
Negative pressure and volume flow monitoring
Motor according to ATEX Zone 22
Construction free of ignition sources and conductive
No ex-zones during operation
All electrical components installed ATEX-compliant
Electrical cabinet outside the system
Environmental protection & sustainability
When we developed our wet separator series, our goal was: to achieve the highest extraction performance in the industry with minimal energy and water consumption. The principle of our customized extraction systems is based on individual configuration. We develop individual solutions specifically for your application through different captures, performance sizes and discharge systems. This enables us to supply economical and energy-saving extraction equipment using the latest technology.
For a green industry of today and tomorrow.
High-quality processing
for a long service life
Less energy costs
per year
High volume
HEPA H14 Filter
Summer/winter switchover
through intelligent control
Reduced heating costs
due to cross heat exchanger
Water savings
up to 7,200 L/year
No expensive
EX-protection
Automatic regulation
of the air output
Our customized extraction systems are used in a wide variety of industries. Wet separators are particularly suitable for the separation of sticky, moist or combustible particles, which arise during work such as grinding or polishing. Unlike dry separators, wet separators use water as the main filter medium. The purified air can be fed back into the hall as exhaust air outside or in recirculation mode. The discharge can be collected in a container, via a pinch valve or other discharge systems according to customer requirements. All wet separators are also available as ATEX guidelines for explosive dust particles.
Quadrus Metal Engineering
»ABSAUGWERK is characterized by very high extraction rates and good service performance. That is why we decided to use this extraction system.«
What is a wet separator?
Wet separators or wet scrubbers are used for exhaust air purification in industry and filter dusts, chips, aerosols and other particles from the contaminated process air. In contrast to dry extraction, water is used as the filter medium in wet extraction. Pollutants and particles are drawn into the extraction system with the process air, bound by the water and separated. For carcinogenic dusts and fine dusts, additional HEPA H14 filters are used as a second filter level, which also filter viruses, pollen and mold spores. The cleaned process air can then be fed back into the production hall in recirculation mode or as exhaust air to the outside.
How does a wet separator work?
In wet separators, water is used to separate dust, chips and other particles. The water acts as a filter as particles from the polluted process air combine with the water droplets. The air is first sucked by a fan into a water vortex, a water wall or a water basin and then passes through further filter stages in the extraction system. All ABSAUGWERK wet separators have a specially developed stainless steel metal mesh in the second filter stage which separates the moisture from the cleaned air. When processing carcinogenic substances such as stainless steel dusts, we use an additional HEPA H14 filter as a third filter stage, which also effectively filters fine dusts and particles of 0.001 µm such as viruses, pollen or mold spores.
What substances does a wet separator filter?
Flammable dusts
Explosive dusts
Stainless steel dusts/steel dusts
Chips
Metal dusts (aluminum, magnesium, titanium)
Plastic, rubber
Fibers, lint
Wet dusts
Sticky powder
The areas of application for wet separators are as varied as the technologies. Not every wet separator is equally suitable for all types of dust, powder or chips. When selecting the right dust collection solution, we consider numerous parameters to ensure you an economical and sustainable extraction system.
When are wet separators used?
Wet separators are particularly suitable for filtering flammable, explosive, sticky, fibrous or moist media (dusts, fibers, powders and much more). The filter medium water extinguishes sparks and reduces fires or dust explosions. Industrial exhaust systems are subject to so-called ATEX directives (ATmosphères EXplosibles), which require a special design and technical components.
Wet deduster are used in a wide variety of industries for production processes such as grinding, polishing, cutting, cutting off.
What are the legal requirements for wet separators?
The operation of wet separators in Germany is regulated by the 42nd Ordinance for the Implementation of the Federal Immission Control Act (42. BImSchV), which was issued in 2017. This was supplemented by guideline VDI 3679 of the VDI/DIN Commission. This legal situation results in a whole series of obligations for operators of wet separators with regard to the useful water for filtering in exhaust air operation.
Before commissioning a unit, an independent risk assessment including action plans must be carried out by a hygienically competent person if the limit values are exceeded.
The operator is obliged to keep a logbook with documentation of the samples.
Regular laboratory tests must be carried out, including verification.
A reference value for germ contamination must be established and adhered to.
The unit must be inspected at least every 5 years by an expert or an accredited inspection body.
Note: The 42nd BImSchV only applies to exhaust air operation. In principle, the water in recirculation mode should be tested regularly, as legionella can form in equal measure and endanger employees.
Wet separator cleaning, maintenance and disposal
Cleaning
Wet separators should be cleaned regularly, depending on the degree of contamination, in order to avoid deposits and to ensure constant separation performance. Various inspection openings and a cleaning set with hose are available for this purpose.
Maintenance
We recommend at least annual maintenance of your extraction systems in order to comply with product safety and operational safety regulations.
Disposal
Wet separators use water as the main filter medium, and some products have additional filter stages. The contaminated process air is drawn through the exhaust system and filtered by water. In the process, light suspended matter and particles remain in the water, while coarser particles sink to the bottom and are disposed of as so-called sludge discharge. The less residual water there is in the discharge, the less expensive it is to dispose of. Our sludge tanks therefore contain a sieve together with filter fleece, which separate the water from the sludge.