Fume filters bind harmful smoke in high-quality cartridge filters and ensure a healthy working environment. In this way, applicable occupational exposure limits can be permanently complied with. For optimal welding fume extraction, we offer various capture elements such as extraction hoods, extraction arms or complete extraction cabins.

Contact us for a non-binding consultation on your application!
Fume filter and welding fume filter for fume and dust
During welding, robotic welding, laser cutting, cutting, soldering and other metalworking processes, smoke and smoulder are released that must be reliably extracted to protect people and machines. When welding stainless steel, the chromium and nickel content produces carcinogenic emissions, which are bound via the additional W3 design or the certified HEPA H14 filter. The cleaned air can then be fed back into the hall (recirculation mode) or outdoors.
As a manufacturer of fume filters, we develop our extraction systems ourselves and can therefore also economically produce special extraction solutions for special applications. The flexible components allow us to supply customized extraction systems for almost any process that are energy-saving and cost-effective to operate.
High extraction power with low energy consumption

Cleanable durable filter components

Flexible use due to numerous options

Recirculation and exhaust air mode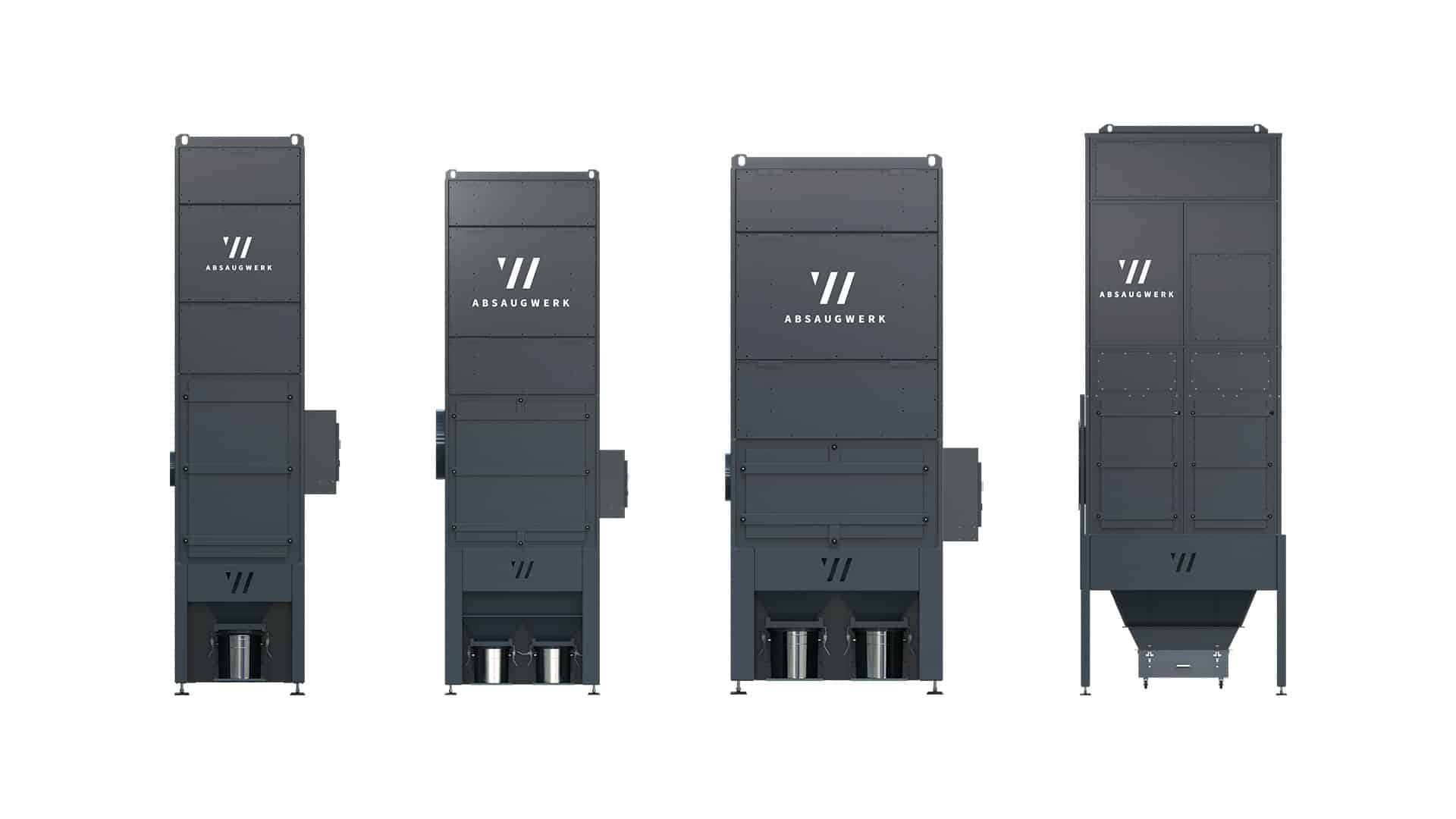 DIFFERENT
FILTER VARIATIONS
POSSIBLE
PRODUCT VARIATIONS
Fume filter function
Fume filters of the R series are individually configurable with their different sizes and various designs and can thus be precisely tailored to the respective process. In the design of the extraction systems, emphasis is placed on high-quality components and optimum performance in order to keep energy and operating costs to a minimum and to protect the environment.
Unit components fume filter
Cartridge filter (diff. performances)
Automatic Jet-Pulse cleaning
Extraction arm
Extraction table
Extraction hood
Machine connection
Pipe system
Individual capturing system
Motor power: 1.1–45 kW
Fan capacity: 2,400–40,000 m³/h
Operating time: 24 hours per day
Drawer
Container
Bucket
Container
Automatic discharge (e.g. cellular wheel sluice)
Individual discharge system
HEPA H14 FILTER
Against carcinogenic substances
W3-EXECUTION
Welding fume class for high-alloy steels
PRE-SEPARATOR
For large amounts of material
PRECOAT-UNIT
Premium filter protection
DIFFERENT FANS
Medium/high pressure, high vacuum
INTELLIGENT CONTROL
Versatile operating options
Explosion protection at
ABSAUGWERK
In the right mixing ratio with oxygen and an effective ignition source, flammable and explosive media in the form of gas, vapor, mist or dust can cause serious fires and violent explosions. This can injure people, destroy buildings and plant components, and ignite other flammable substances.
For this reason, so-called ATEX directives (ATmosphères EXplosibles) apply to industrial extraction systems.
Air speed in the pipe min. > > 20 m/s
Negative pressure and volume flow monitoring
Motor according to ATEX Zone 2
Construction free of ignition sources and conductive
No ex-zones during operation
All electrical components installed ATEX-compliant
Electrical cabinet outside the system
Environmental protection & sustainability
We develop economical and energy-saving extraction systems using state-of-the-art technology. for a green industry of today and tomorrow.
High-quality processing
for a long service life
Less energy costs
per year
High volume
HEPA H14 Filter
Summer/winter switchover
through intelligent control
Reduced heating costs
due to cross heat exchanger
No expensive
EX-protection
Automatic regulation
of the air output