Deduster
P SERIES | S SERIES
Dedusters are extraction systems and are used both in industry and in the public sector to filter dust from the air we breathe. Processes such as grinding, deburring or cutting release dusts that must be extracted and filtered to protect the workforce. This means that occupational health and safety regulations and legal requirements can be complied with, and operators benefit from a clean hall and automatically extend the service life of their machinery.
Industrial deduster for dust, granules, fibers and chips
Numerous industrial processes generate dusts, chips, granules, fibers and flakes of different materials, particle sizes and chemical properties. Explosive and flammable media such as aluminium, copper or flour are particularly dangerous. The dedusters of the P (cartridge filter) and S (bag filter) series are available in various sizes and designs and can thus be individually configured. Due to the automatic Jet-Pulse filter cleaning, the dust cake is blown off the filters. This significantly increases the service life of the filters and minimizes operating costs. Against carcinogenic substances such as stainless steel or glass, an additional HEPA H14 filter is installed in the deduster. The cleaned air can then be fed back into the hall in recirculation mode or outside.
Individually configurable

High extraction power

Low energy consumption

Automatic filter cleaning

Flexible use for many industries

Energy-saving recirculation mode
DIFFERENT
FILTER VARIATIONS
POSSIBLE
PRODUCT VARIATIONS
Subscribe to our YouTube channel!
There we regularly publish new service and product videos on our dedusters and other extraction systems to make the use of our extraction systems even more customer-friendly.
Cartridge filter (diff. performances)
Bag filter (diff. performances)
Automatic Jet-Pulse cleaning
Extraction arm
Extraction table
Extraction hood
Machine connection
Individual capturing system
Motor power: 1.1–45 kW
Extraction capacity: 2,400-40,000 m³/h
Operating time: 24 h / 7 days
Drawer
Container
Bucket
Container
Automatic Discharge (e.g. Cellular wheel sluice)
Individual discharge system
HEPA H14 FILTER
Against carcinogenic substances
PRE-SEPARATOR
For large amounts of material
PRECOAT-UNIT
Premium filter protection
DIFFERENT FANS
Medium/high pressure, high vacuum
INTELLIGENT CONTROL
Versatile operating options
Explosion protection at
ABSAUGWERK
In the right mixing ratio with oxygen and an effective ignition source, flammable and explosive media in the form of gas, vapor, mist or dust can cause serious fires and violent explosions. This can injure people, destroy buildings and plant components, and ignite other flammable substances.
So-called ATEX directives (ATmosphères EXplosibles) therefore apply to industrial extraction systems such as dedusters.
Air speed in the pipe min. > > 20 m/s
Negative pressure and volume flow monitoring
Motor according to ATEX Zone 2
Construction free of ignition sources and conductive
No ex-zones during operation
All electrical components installed ATEX-compliant
Electrical cabinet outside the system
Environmental protection & sustainability
We develop economical and energy-saving deduster and extraction systems using state-of-the-art technology. For a climate-friendly industry of today and tomorrow.
High-quality processing
for a long service life
Less energy costs
per year
High volume
HEPA H14 Filter
Summer/winter switchover
through intelligent control
Reduced heating costs
due to cross heat exchanger
No expensive
EX protection components
Automatic regulation
of the air output
Why do I need a deduster?
Dusts are small particles that can be generated during various work processes such as grinding, cutting or deburring. Negative consequences can be caused by dusts in the air we breathe for the following reasons:
Respirable particulate matter and other pollutants are a hazard to your employees and can cause serious illness (asthma, cancer, headaches). Sick days and absenteeism are on the rise.
Deposits on machines, tools and workpieces. The cleaning effort and costs increase.
The quality of your products may be reduced.
Hall, floors and walls are permanently dirty and can be cleaned only with great effort.
In accordance with occupational health and safety regulations, dust and pollutants must be efficiently filtered out of the hall air. Compliance is checked by the Employer's Liability Insurance Association.
Compliance with legal dust limits. How much dust may be contained in the hall air and under what conditions the process air may be discharged into the environment are regulated by law.
Are mobile dedusters also offered?
All units of our deduster series are also available as mobile units with heavy-duty rollers.
How is the air filtered?
The process air containing dust is extracted via a capture element (extraction arm, extraction hood, etc.) and fed into the extraction system.
Here it passes through one to three filter stages, depending on your process, the amount of dust and the dust class. For large quantities of dust, a pre-separator (e.g. cyclone pre-separator) is set as the first filter stage to filter out coarse material from the air. For fine dust and carcinogenic particles, we install an additional HEPA H14 filter as a third filter stage.
Filter stage 1
Pre-separator
Filter stage 2
Bag filter or cartridge filter
Filter stage 3
HEPA H14 Filter
What are the filter elements for deduster?
The dedusting systems are equipped with bag filters or cartridge filters, depending on the extracted medium. From nano, grooved to antistatic, we offer over 50 different filter variants. For fine dust and carcinogenic dusts we use an additional HEPA H14 filter. The filter area varies from 25 m² to 600 m² depending on the unit size and type.
How to dispose of the dust?
The dust can be collected via various discharge systems and disposed of independently in accordance with local regulations:
Drawer
Container
Bucket
Container
Automatic discharge e.g. Rotary feeder
Individual discharge system
How is the cleaning of the filters performed?
The filters are cleaned automatically via the Jet Pulse cleaning system. The filters are cleaned automatically by the Jet Pulse cleaning system, which uses compressed air to blow the dust cake off the filters and collect it in the discharge container. This maximizes the service life of the filters and minimizes the operating costs for replacement filters.
Single-user or multi-user extraction?
Whether single or multiple grinding machines for manual processing or automatic processing machines, the dedusters can be connected directly to the machines as direct extraction. Choose between extraction arms, extraction hoods or additional capture elements. In the case of several workplaces, a hall extraction system can alternatively be installed as a central dust removal system.
For which processes are the devices suitable?
Grinding, sawing, cutting, deburring, polishing, surface machining and much more
Are the dedusters energy efficient?
The customized configuration of our deduster makes them some of the most energy-efficient units in the industry. Optionally, a frequency converter can be installed, which receives the heat from the contaminated hall air by means of effective air recirculation.
Indoor installation or outdoor installation?
All ABSAUGWERK extraction systems can be installed both indoors and outdoors. Due to a lack of space inside the production hall, many of our customers opt for an outdoor installation; any additional costs incurred due to a longer pipe system should be taken into account.
Recirculation or exhaust air?
Recirculation mode can be the more energy-efficient option due to heat recovery. A frequency converter is integrated for energy-efficient air recirculation.
What are the dust classes?
For operators of dedusters, it is not always clear which category of use of an extraction system corresponds to a particular dust class, so the Institute for Occupational Safety and Health (IFA) has drawn up the following table to provide an overview of dust classes according to DIN EN 60335-2-69.
Our deduster series is individually configurable and can thus be optimally adapted to the various processes in a wide range of industries. For our customer Grammer from the automotive industry, we have developed and installed two work cabins with a deduster including fire protection and ATEX concept for carcinogenic glass dusts.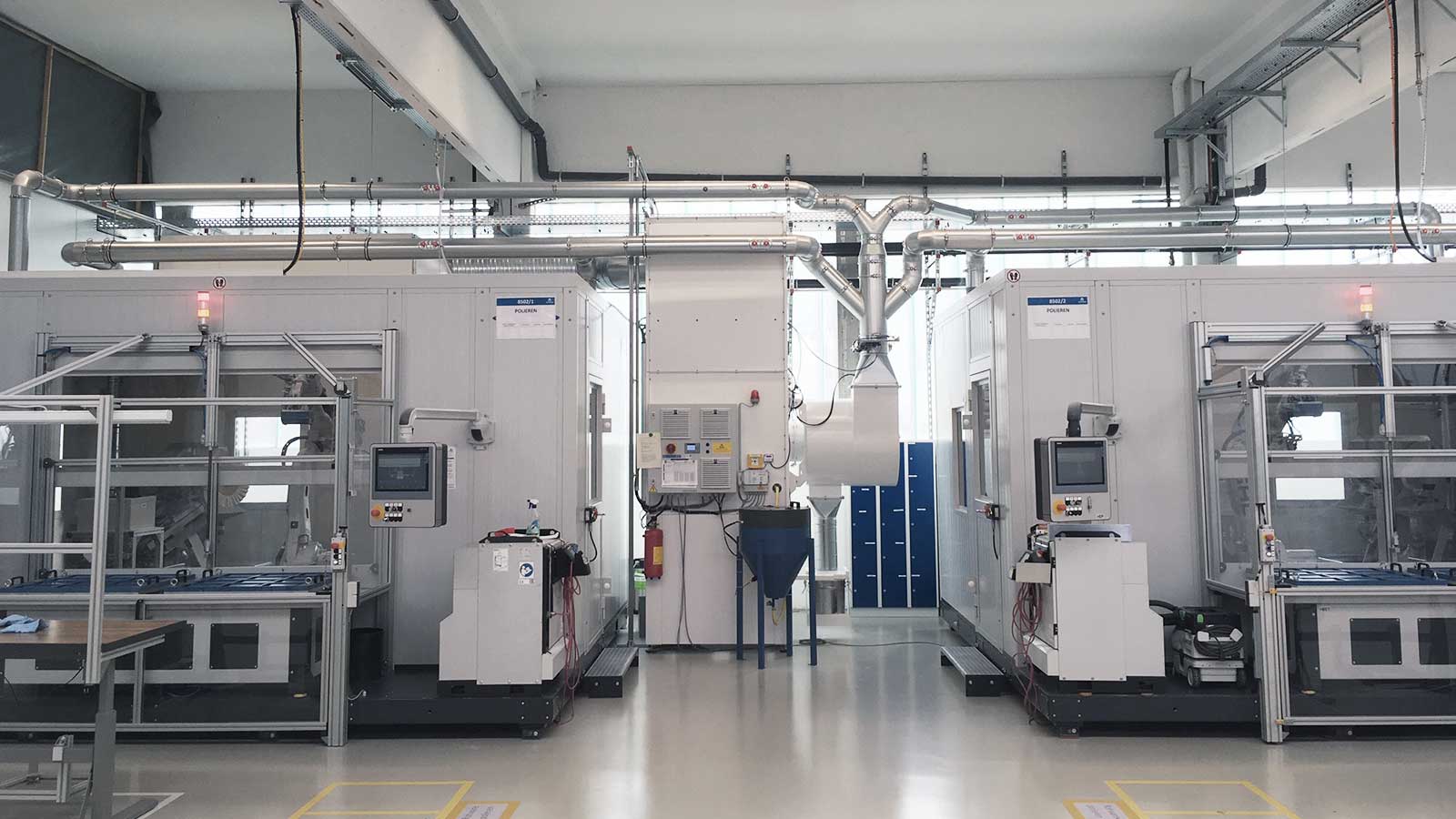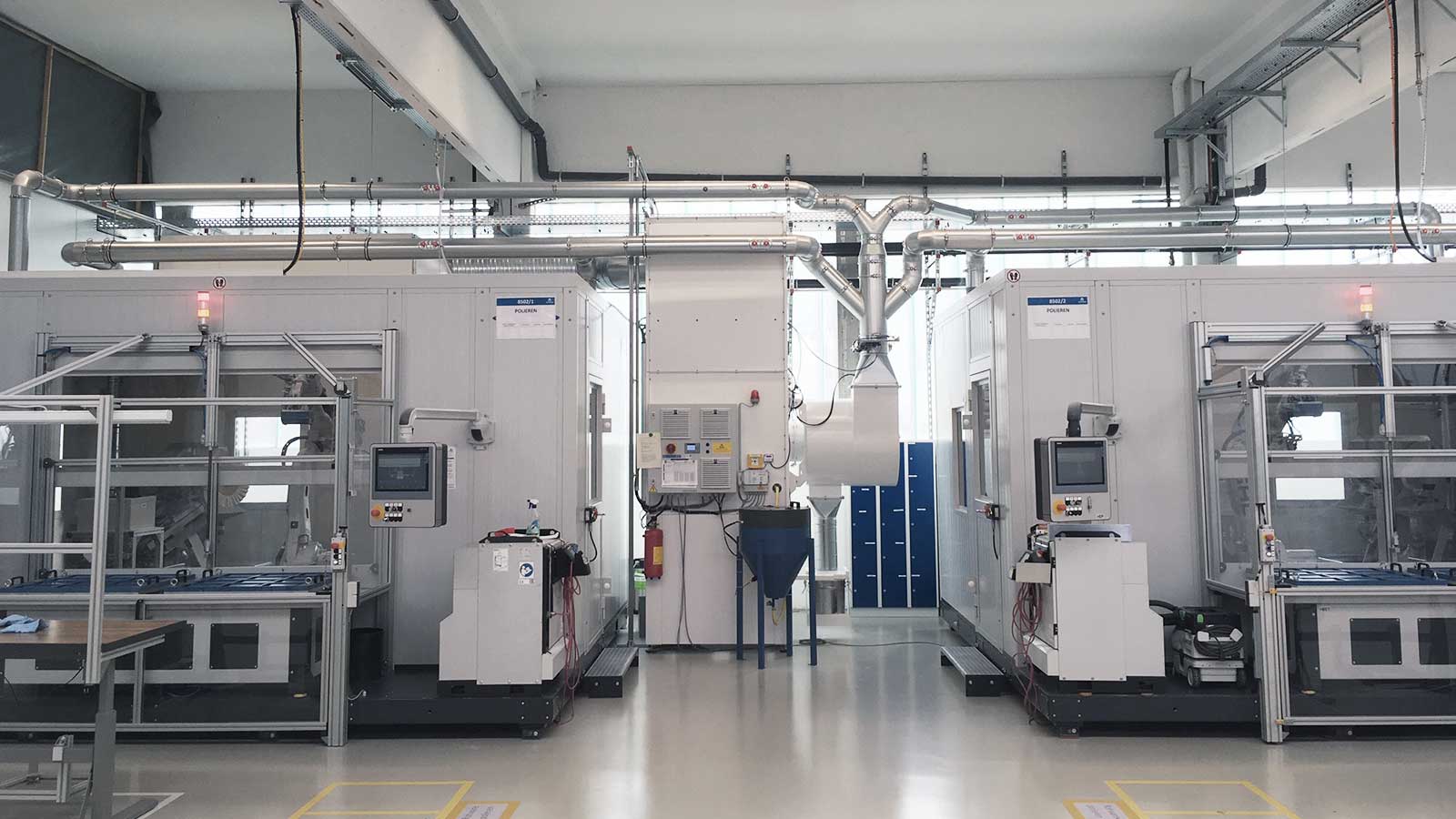 Grammer
We provided the world's leading supplier of seating solutions for commercial vehicles and interior solutions for the automotive industry with two work cabs. equipped, in which grinding and polishing work is carried out in 3-shift operation. The harmful dust mixture released during polishing is extracted with the help of our deduster and effectively filtered out of the booth air.