Pre-separators or pre-filters for extraction systems serve as spark traps or to separate large quantities of dust and chips before the extracted media reach the filter unit. They protect the main filters of the extraction system and ensure a longer filter service life.
Low fire risk due to the separation of glowing particles and sparks.
Higher
filter service life
Relief of the main filter at constant extraction power for increased service life.
Low fire risk due to the separation of glowing particles and sparks.
Higher
filter service life
Relief of the main filter at constant extraction power for increased service life.
Pre-separators are installed upstream of the extraction systems. Medium and coarse dust particles can be separated up to 99 % in advance, so that only the filtration of fine dust is required. By connecting a pre-separator upstream, the filter service life is significantly increased and follow-up costs are reduced.
Pre-separators from ABSAUGWERK are suitable for every type of unit and can be easily retrofitted. The different designs and sizes guarantee optimum extraction performance with low energy consumption. All pre-separators can also be designed for several extraction systems.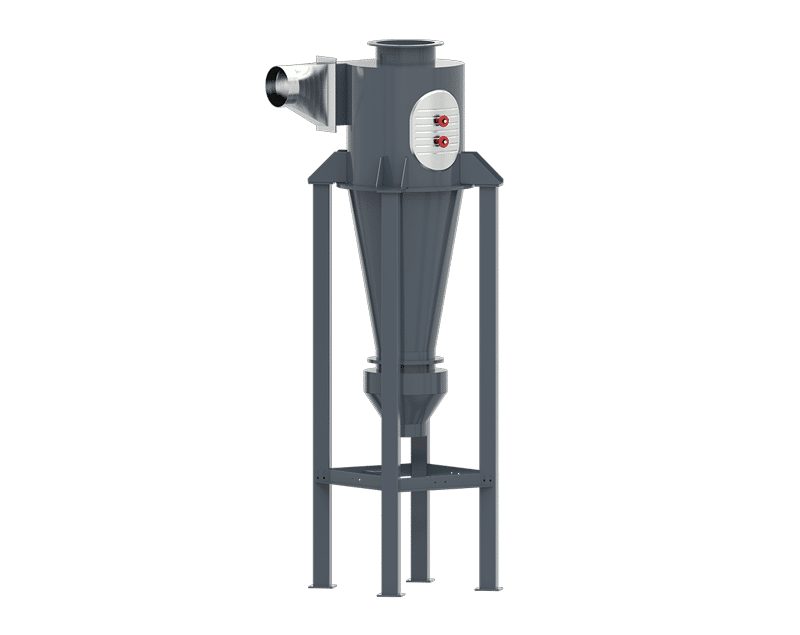 Separate cyclone pre-separator
Separate cyclone pre-separators can be placed independently next to the unit. They have the best separation efficiency.
Side cyclone pre-separator
With its compact and robust design, the side cyclone pre-separator can be installed directly on the unit. This saves space and costs.
Water pre-separators bind smoke in a water bath and extinguish sparks or glowing particles with a separation efficiency of almost 100 %.
The spark trap is placed between the capture and the pipe system. Due to the reduced air velocity in the spark pre-separator, the sparks cool down and extinguish.
When do I need a pre-separator?
Pre-separators are used with large quantities of material to protect the main filters. In the case of explosive media, they serve as spark traps to prevent fires and explosions.
Processes:
• Welding
• Grinding
• Polishing
• Laser cutting
• Deburring
Media:
• Explosive dusts
• Gases and fumes
• Abrasive substances
• Oils and emulsions
Which pre-separator do I need?
Which pre-separator you need depends on your application.
To give you an overview, we will briefly show you the advantages and disadvantages of the different designs.
Separate pre-separators:
+ Maximum separation efficiency
– Higher purchase costs
Side pre-separator:
+ Space-saving and cost-effective
– Lower separation efficiency
Water pre-separator:
+ Suitable for glowing particles with high energy.
– Lower filter life, higher disposal costs
Spark trap:
+ Reduced energy consumption, low cost, easy to retrofit
– Lower separation efficiency
What do we look for when planning a pre-separator?
When planning your pre-separator, we take the following criteria into account:
• Material type (abrasive, adhesive, statically charged, oily/sticky or explosive)
• Particle size and weight, e.g. 1000 L/day
• Material volume and weight
• Processes
• Cyclone size which depends on air volume and required suction power
Where to put the separated material?
The suitable discharge depends on the amount of material. We offer the following discharges:
Rotary feeder
Big Pack
Bucket 15/30 L
Closed bin/container
Individual pre-separators
In addition to the standard designs, we also offer special designs for pre-separators such as zigzag pre-separators or non-return valves.
Thereby we try to fulfill every demand.
Let us advise you!
Explosion and fire protection
If a spark gets into the filter unit, serious explosions and violent fires can occur. To guarantee the safety of employees and industrial units, so-called ATEX directives (ATmosphères EXplosibles) apply. Our ATEX-compliant extraction systems guide the air in a flow-optimized manner via pipe systems into the pre-separator and thus prevent the penetration of possible sparks. In addition, a number of other measures provide additional protection.