Oil mist separator for foundry
D. La Porte Söhne GmbH
D. La Porte Söhne GmbH
D-42279 Wuppertal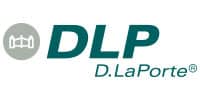 Die casting
Spraying of cooling lubricants
& release oil
For almost 160 years, D. La Porte Söhne GmbH has been manufacturing high-precision locks and fittings for the commercial vehicle and automotive industries. In the die casting foundry, 7 casting machines work simultaneously in 2-shift operation. To prevent the parts from sticking in the tools, they are wetted with a fine spray of cooling lubricants or release oil. Fine aerosols and oil mist are released and remain in the hall air until they are deposited on floors, walls and surfaces as a fine oil film.
The challenge
In a hall, the released oil vapors and aerosols from 4 casting machines, which work simultaneously and in 2-shift operation, are to be extracted. In order to comply with the applicable workplace regulations, these harmful particles must also be reliably filtered out of the hall air.
As is typical for the industry, die casting machines generate a lot of heat. Therefore, fresh air is to be continuously supplied to the hall and the exhaust system is to run in exhaust air mode instead of recirculating air mode. DLP had already installed another extraction system with electrostatic precipitator in recirculation mode and was still dissatisfied with the separation performance and air quality. The filters were quickly clogged and had to be cleaned frequently, which was something that had to be prevented during the technical planning of the new solution.
An E 4000 series oil mist separator with 7,200 m³/h air capacity captures the fine oil particles and aerosols via 8 slotted hoods and filters the emissions out of the production air via 3 filter stages.
The air containing oil is extracted from the hoods, flows into the extraction system via a pipe system and first passes through two filter stages made of stainless steel mesh, where a large part of the release agents is already separated. These drip off the knitted fabric and collect in a discharge container. The process air is then finally cleaned via 4 class E11 cassette filters.
Filter stage 1
2 Stainless steel knitted filter
Filter stage 2
2 stainless steel mesh filters
Filter stage 3
4 Cassette filters
The cleaned process air is then led outside as clean exhaust air via a pipe system. The separated lubricants are collected in a discharge tank, which is connected to the system via a ball valve incl. a drain valve. Siphon has and can be drained and reused if necessary.
1 year without filter cleaning?
Even the first filter stage is so effective that our customer has not had to clean the metal mesh filters even after one year of operation, and the cassette filters are still absolutely as good as new. The filter performance is continuously monitored by a differential pressure sensor and has only decreased by approx. 2% after one year.
In general, all metal mesh filters from ABSAUGWERK are made of stainless steel and can be washed out with a conventional high-pressure cleaner and used again and again.
A fresh breeze in production
To significantly improve the air quality and cool the hall, the hall air should also be enriched with fresh air. Usually, these fresh air units are separate and are placed next to the exhaust system. To save space and costs, our technical manager Martin Prokisch created an individual solution and integrated the fresh air box into the extraction system – 2 in 1.
»There is a world of difference between the air quality before and after installation of the oil mist separator. The Employer's Liability Insurance Association was also enthusiastic about the effectiveness of the extraction system. The air quality and temperature in the hall have improved tremendously. This was particularly important to us because our employees are our most important asset.«
Joachim Pirdzuns, Plant Manager D. La Porte Söhne GmbH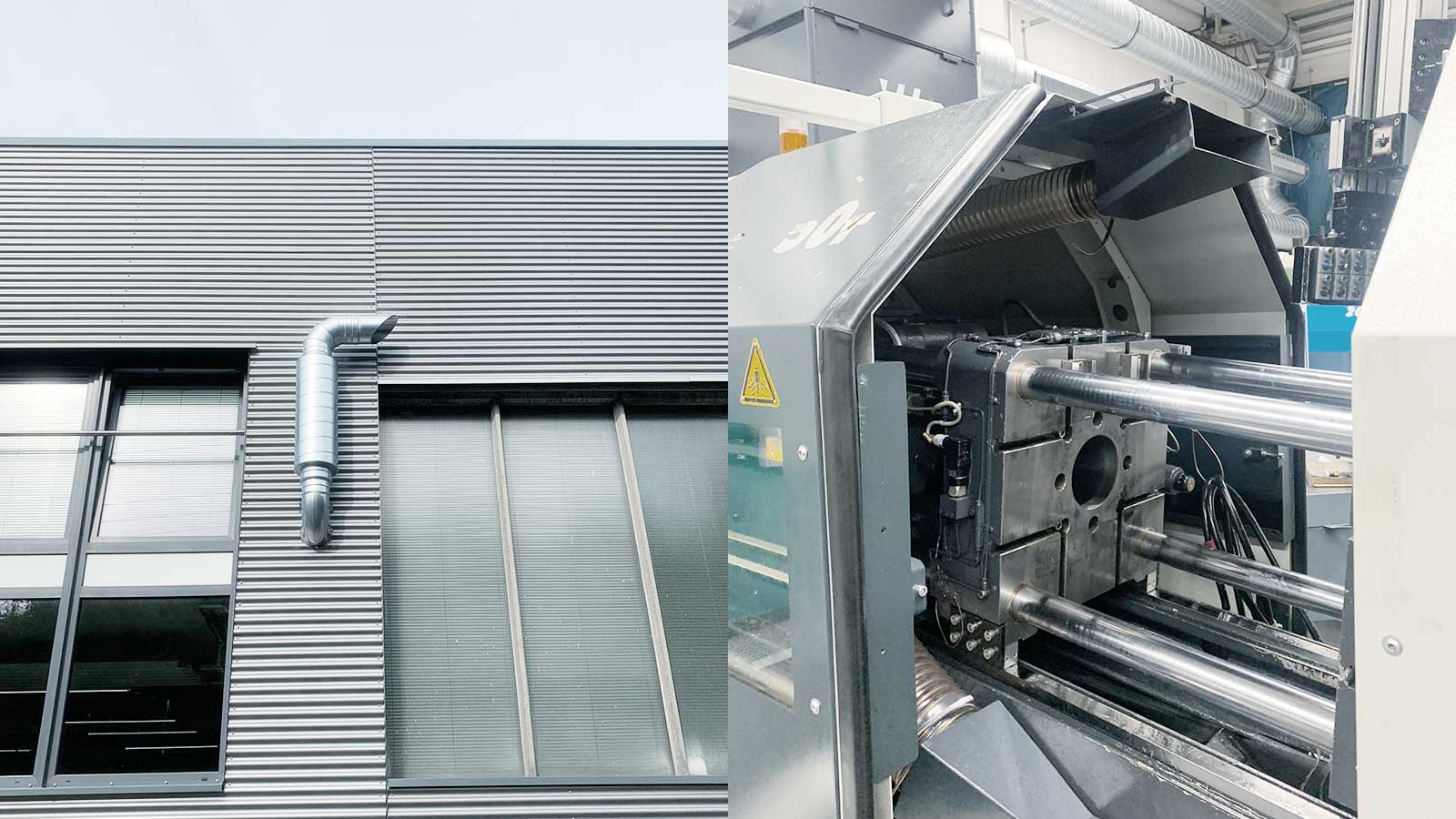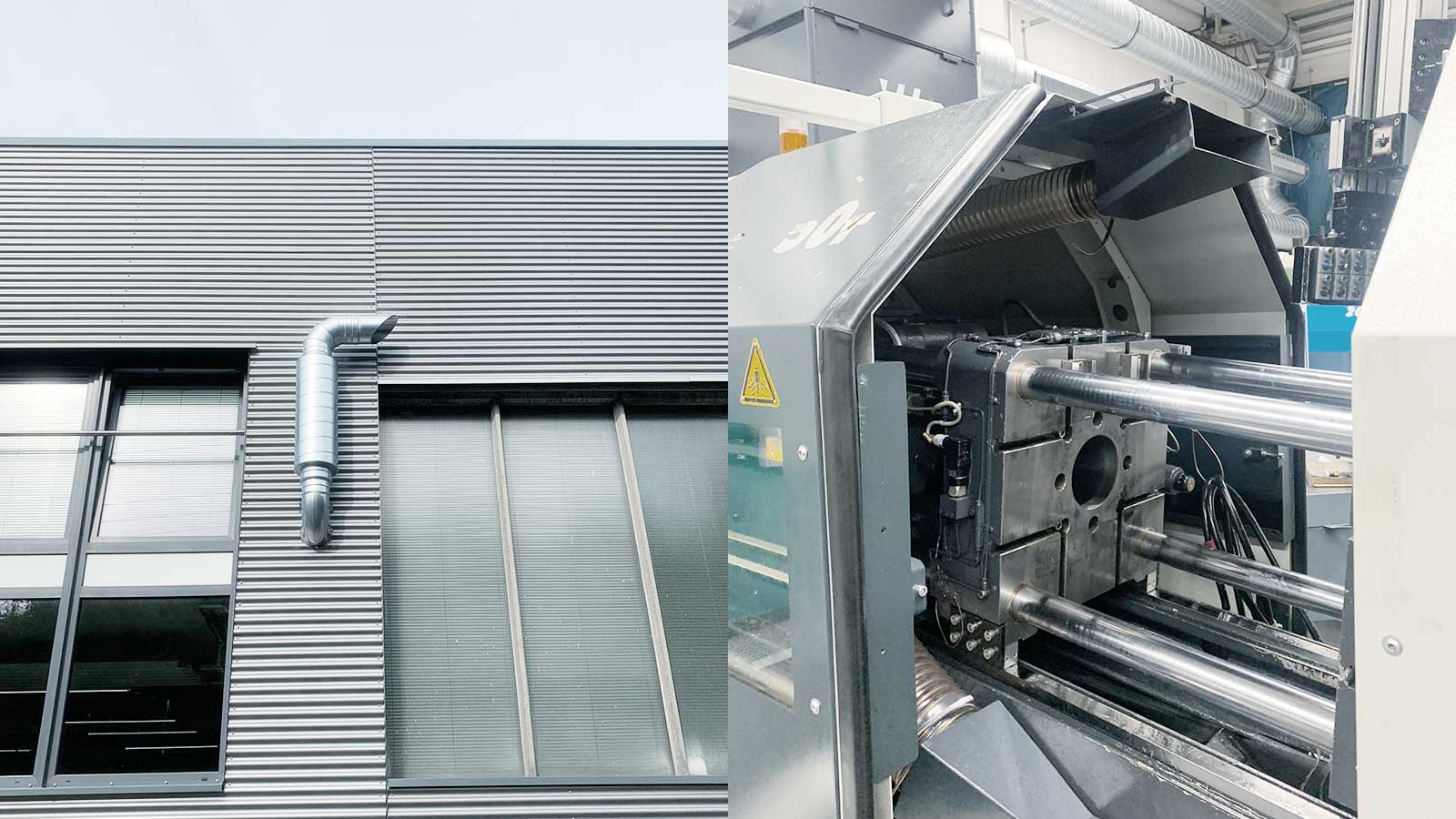 Oil mist separator E 4000 series
Performance: 11 kW
Max. Air volume: 15,000 m³/h
Operating point 7,200 m³/h
Control Siemens LOGO!8 with frequency converter
4 stainless steel mesh filters incl. Monitoring
4 cassette filters category E11
Integriertated fresh air unit
Capturing: 8 slotted hoods
Discharge: ball valve with siphon
Consulting

Technical design

Planning of pipe system

Production

Assembly and piping

Commissioning
ADVANTAGES
Extraction unit and fresh air box in one unit: space-saving, economical, energy-saving
Cleanable stainless steel mesh filters
Extremely low maintenance & low cleaning effort
Long life cassette filters
Extraction via slotted hoods directly at the point of origin
Low operating costs
Quiet in operation
Low resistance in pipe system and extraction unit
Development and assembly directly from the manufacturer
ABSAUGWERK stands for high-quality extraction solutions for the manufacturing industry to protect people, machines and the environment. We are proud to make workplaces safer and cleaner with our systems. In this way, we not only actively contribute to the protection of employees, but also increase the service life of machinery and significantly reduce environmental pollution.