OIL MIST SEPARATOR
O SERIES | E SERIES
Oil mist separators of E and O Series bind mists, vapors, aerosols or smoke via several filter stages and neutralize unpleasant odors from the air. The separated lubricants collect and can be reused. As a manufacturer of oil mist separators, we are constantly developing our extraction systems and also manufacture individual extraction solutions for special processes.
Contact us for a non-binding consultation on your application!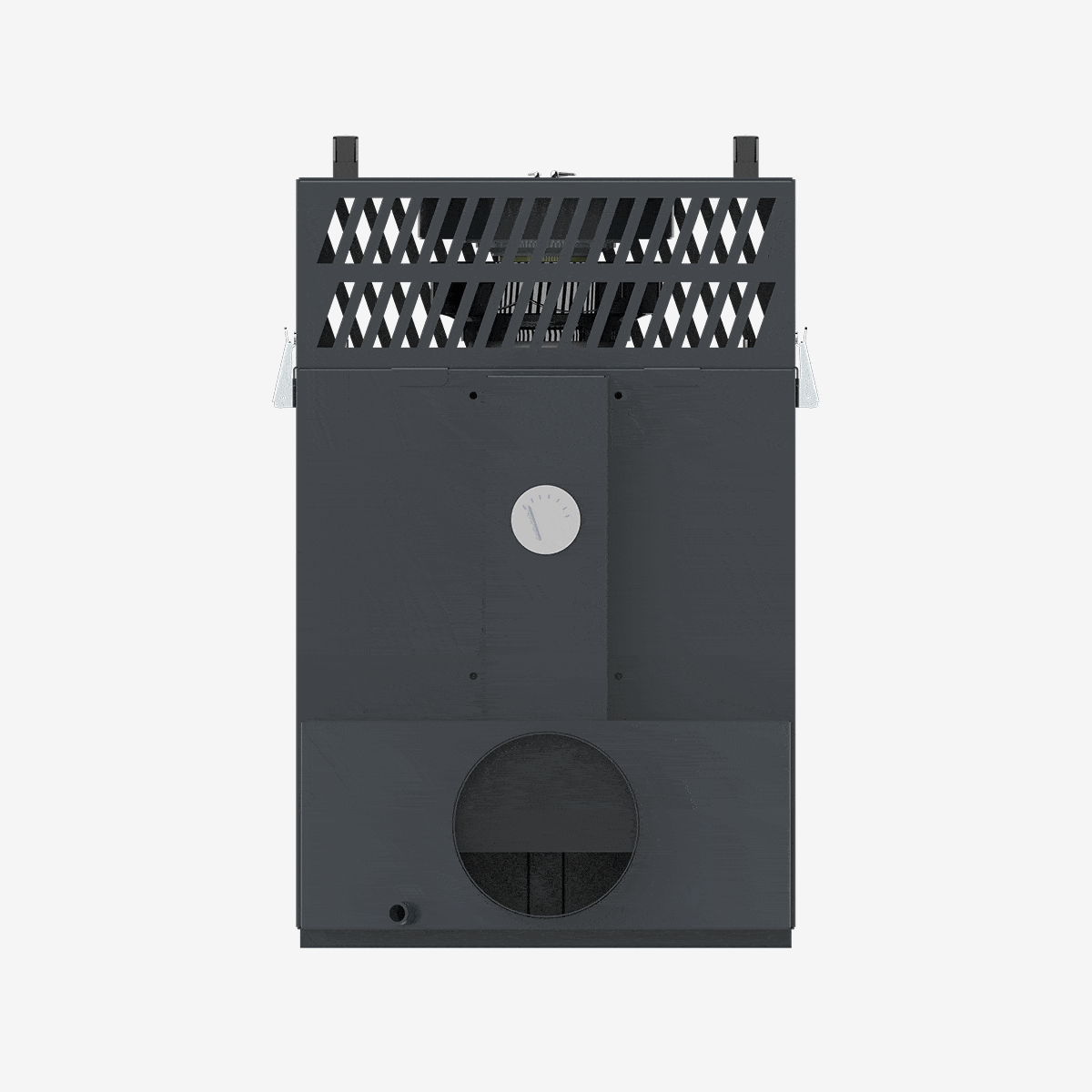 Oil mist separator for aerosols, emulsions and vapors
The use of coolants and lubricants in certain processes releases fine oil and emulsion mists as well as aerosols and fumes. These are deposited on machine parks, floors and walls, thereby increasing the risk of fire and accidents.
Oil mist separators from ABSAUGWERK are specially manufactured for the respective process and the material used. Depending on the nature of the extracted medium, several filter stages made of stainless steel metal mesh and additional HEPA H14 filters are used for fine aerosols, mists and vapors.
High extraction power with low energy consumption

Cleanable stainless-steel metal mesh

Durable quality filters

Recirculating air or exhaust air operation
Metalworking
Plastics industry
Extrusion
Cable production
Automotive industry
Pharma industry
Chemical industry
Food industry
Grinding, milling, machining etc.
Oil mist
Emulsion mist
Water vapor
Configurable oil mist separators – specifically for your process
Every application is unique, so we offer customized systems specifically for your requirements and with a separate fan if desired. We manufacture complete filtration units including pipe design and pipe system, sound insulation, fire protection, individual collection and discharge.
When are oil mist separators used?
Oil mist separators are used to filter moist or sticky substances such as aerosols, emulsion mist or vapors that are generated during production processes. When machining workpieces, a coolant or cooling lubricant is often used, which is turned into a fine oil mist by heat (e.g. friction). These mists and emulsions are mostly hazardous to health, can damage machines and material, and contaminate workpieces. The risk of accidents and fire also increases significantly.
Occupational safety and health
Health protection
Fire hazard
Risk of accident
Environmental protection
Workpiece purity
Protection of machines and material
Compliance with legal regulations
What happens if I do not extract oil mist?
Due to the deposition of the fine oil film on surfaces, floors, walls and the hall ceiling, the fire hazard in the surrounding area increases considerably and the risk of accidents in the production hall increases. Employees can suffer short-term and long-term cognitive damage and respiratory illness if the fine aerosols penetrate the lungs. Machines and tools are permanently contaminated and the quality of the workpieces decreases.
What are the collection options for oil mist collectors?
Extraction arm
Extraction table
Extraction hood
Machine connection
Pipe system
Individual capturing system
What degree of separation is achieved by oil mist separators from ABSAUGWERK?
By using one to three filter stages, a separation efficiency of 99.998% can be achieved:
Filter stage 1
Stainless steel knitted filter Stage 1 Separation efficiency 99%.
Filter stage 2
Stainless steel knitted filter Stage 2 Separation efficiency 99%.
Filter stage 3 (optional)
HEPA H14 Filter Separation efficiency 99.995%
Filter stage 4 (optional)
Activated carbon filter
What air volumes can oil mist separators filter?
Oil mist separators from ABSAUGWERK can filter air volumes from 1,800 to 21,500 m³/h and can be individually configured and expanded due to the flexible system components. For large air volumes, several separators with separate fans can be connected in series, so there are no limits to our suction power. As a manufacturer, we also have the possibility to economically implement special solutions such as special captures or discharge variants. In the case of low hall ceilings, separate fans are also an option to ensure that the extraction system remains as compact as possible.
Oil mist separator function
The extraction systems are usually connected directly to the respective machine, suck in the media and filter them via several filter stages. The cleaned air can then be fed back into the room or outside in recirculation mode. The filtered emulsion drips off the metal mesh filters and is fed back into the processing center via a siphon hose. This saves material and costs…

Thanks to the adjustable air output and the integrated energy-saving motor, operating costs remain low. The extraction power can be individually adjusted to the respective process. The stainless-steel metal meshes can be conveniently clamped in the Cleanbox cleaning station and cleaned with a conventional high-pressure cleaner. The polluted water collects in a tub and is drained off via a drainage nozzle.
System components oil mist extraction
Cleanable stainless-steel metal mesh
Extraction arm
Extraction table
Extraction hood
Machine connection
Individual capturing system
Motor power: 0.55–22 kW

Fan capacity: 1,800–21,500 m³/h

Operating time: 24 hours per day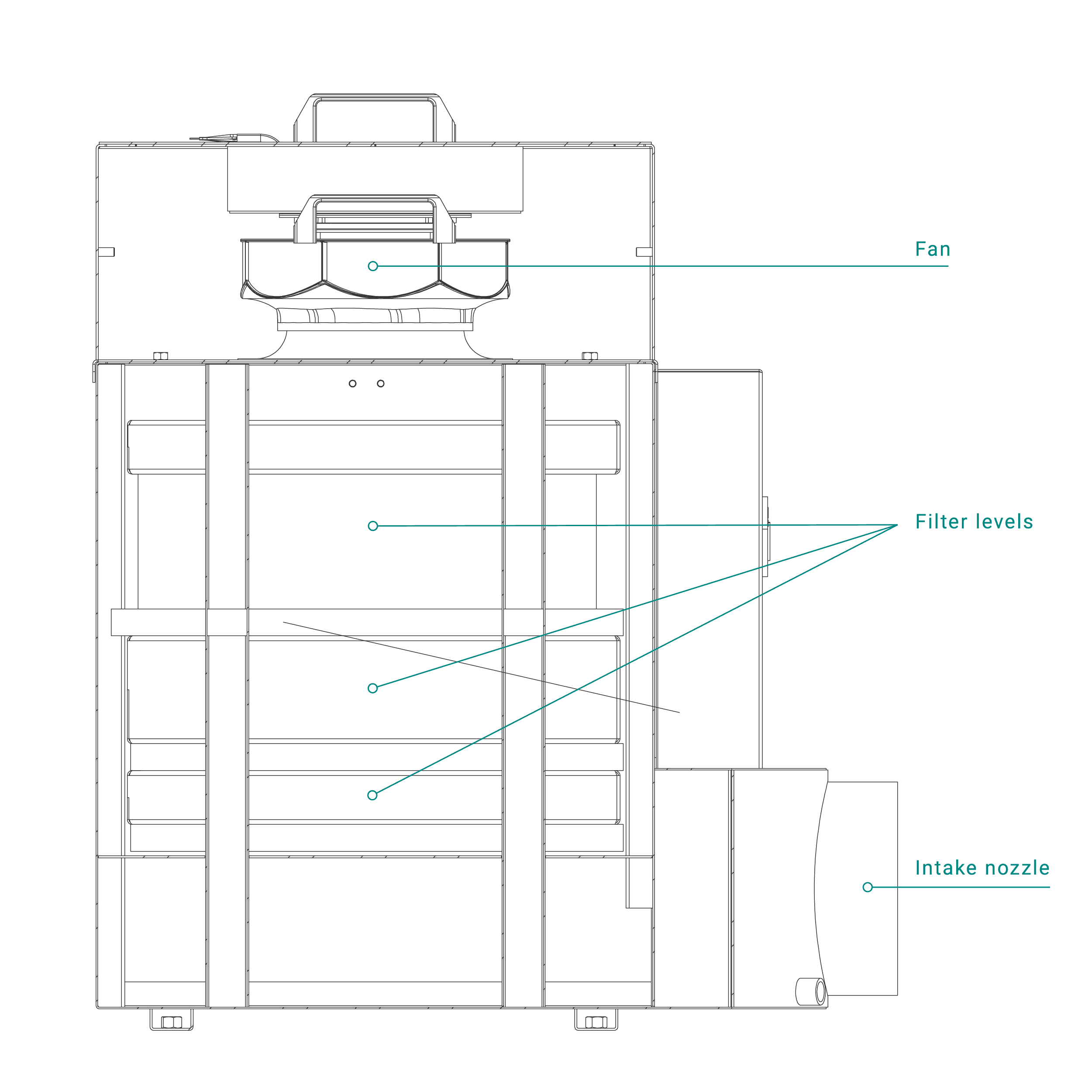 HEPA H14 FILTER
Against carcinogenic substances
HEPA H14 FILTER
Against carcinogenic substances
Energy saving with oil mist separators from ABSAUGWERK
Due to the high separation efficiency of our oil mist separators, the filter systems are also suitable for recirculating air operation. A frequency converter automatically adjusts the suction power to your production conditions and saves valuable energy. Already during the development of our extraction systems we pay attention to minimum resistances in the pipe system and the system as well as an optimal air flow. Thus, we produce high-performance extraction systems with very low energy consumption compared to standard systems.
Energy-saving
recirculation mode
Heating cost savings
through heat exchanger
Return of the
cooling lubricant
Automatic regulation
of the air output
Low-maintenance oil mist extraction and long filter service life
As a manufacturer of extraction systems and oil mist separators, the quality of our systems has the highest priority. To ensure a long service life for our extraction systems, we install high-quality components and handle the entire service chain ourselves, from consulting to after-sales service. The installed metal mesh filters made of stainless steel can be washed out with a conventional high-pressure cleaner and separate oil mist so efficiently that the second and third filter stages are hardly affected. This significantly increases the service life of all installed filters and saves costs in operation and service. Each of our extraction units is individually tested and only leaves the WERK fully functional.